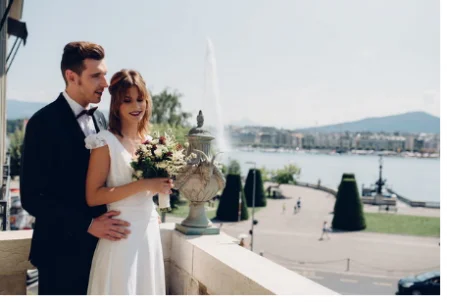 Saint-Frusquin
High fashion formal wear rental for evening and special occasions for men, women and children at your service in Geneva since 1986. "Get Ready to Impress with Our Fashion Black Tie Rentals in Geneva!"
---
WE WISH YOU A HAPPY
CHRISTMAS
AND A GREAT 2024.
THE SHOP CLOSED FOR HOLIDAYS,
FROM 12/24/2023 TO 01/08/2024.
Rents made for the end of the year must be taken before 12/23/2023 and returned when the shop reopens. The rent for this period is considered to be a simple rent.
---
We do not rent
wedding dresses
TUXEDO, BLACK TIE, TAILCOAT, SUIT, WHITE TIE, MORNING SUIT, DRESS
MEN'S WERE FOR CEREMONY AND WEDDING
Possibly: costume for the day
---
The customer relations department is at your disposal by email:
Or by phone from Monday to Saturday from 09:00 to 19:00 at
---
RENTAL CONDITIONS FOR FORMAL WERE
LIST OF OUR PRICES FOR
MAN, WOMAN AND GUY
IN OUR GENEVA SHOP.
THE MEASUREMENTS TO BE TAKEN TO DETERMINE YOUR SIZE.
Sise comparison tables between different countries. In case of rent, here are the measures to give.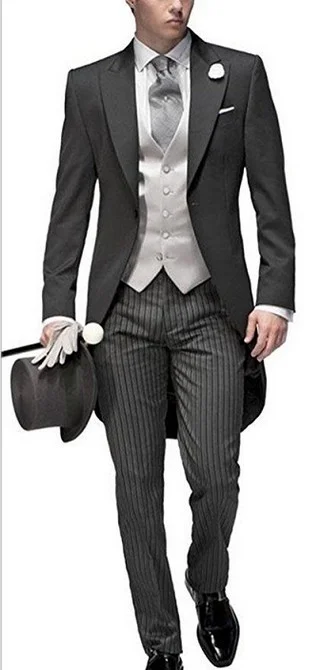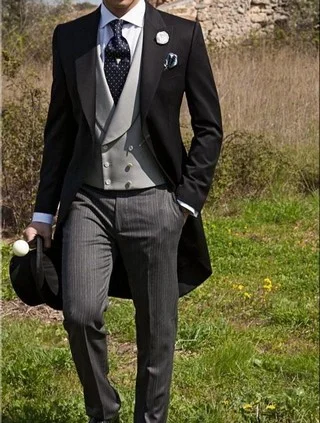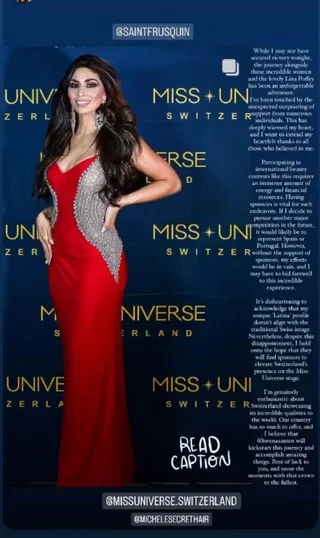 FITTING, REPAIR, DELIVERY, RESERVATIONS
FITTING, CLEANING, REPAIR
RESERVATIONS FOR THE ITEMS.

WHEN DO YOU NEED TO PAY?
HOW MANY RENTAL
DAY DO YOU HAVE?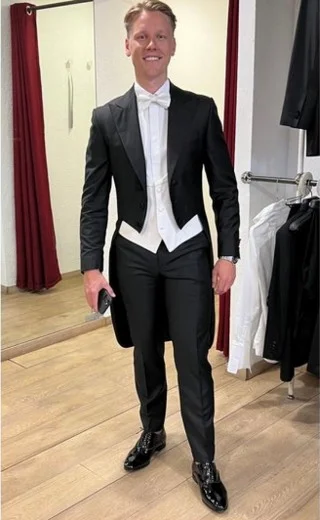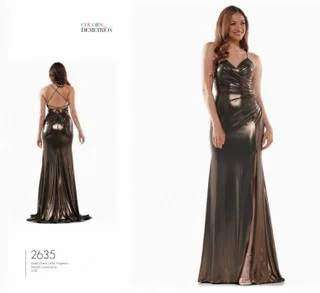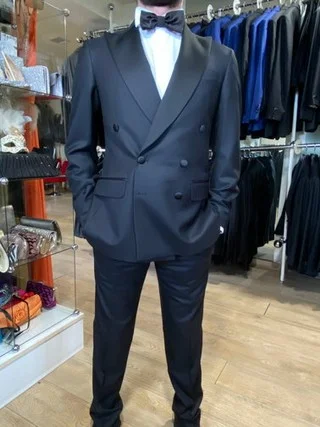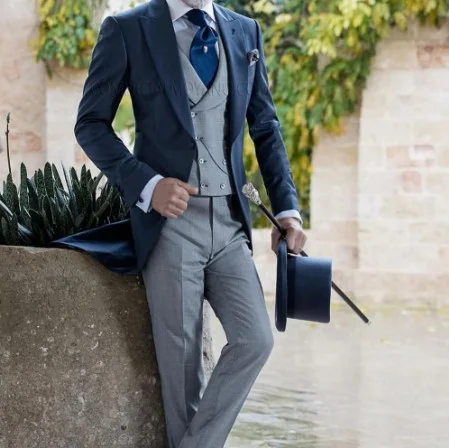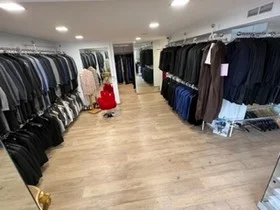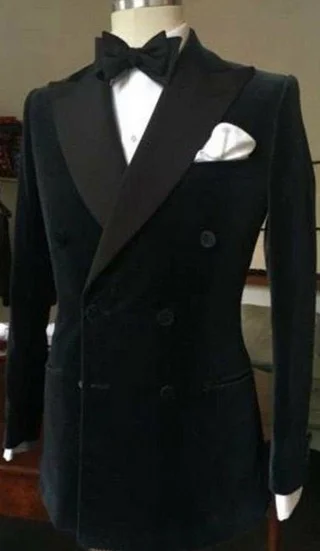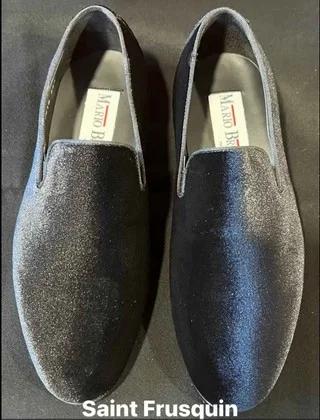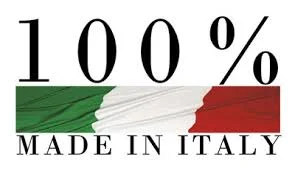 The boutique Saint Frusquin was born about forty years ago in Geneva thanks to an idea, avant-garde for the time, of Ms. Maulini. Initially, the work revolved around selling high-quality new women's clothing and reselling second-hand items of the same level. In the second part of the nineties, the current owner of the company began to provide the shop with Italian dresses for women and later, evening wear. Due to a growing demand for the rental of men's tuxedos for weddings, the shop took its first steps in ceremonial and wedding clothing. Starting from an offer of just over five Tuxedos, she came to have a hundred tuxedos available around 2010.
Humberto Jimenez took over the shop from that moment following the retirement of Ms. Maulini. Jimenez at the time had more than thirty years of experience in the fashion industry, a factor that characterized the new direction by introducing a new philosophy. Luxury in rentals for weddings and ceremony. With this brilliant idea, He brought to the store in Geneva the best fabrics made in Italy. The making of clothes for the
Rental: Black tie, Tuxedo, Tailcoat, white tie, morning suit,
and casual tux, tuxedo or black tie was order to true and pure craftsmen who shared the same philosophy of luxury, paying obsessive attention to the finishes and details of each model.
Following this philosophy, other garments, such as shirts for example, we make do this one in pure Egyptian cotton, woven in Italy, and made by the same type of craftsmen. The same goes for our shoes, finished by hand. It is just to list, our added value. In any case, our philosophy is therefore based on authenticity and perfection of the
artisan
touch. This also includes all the other elements that accompany weddings or ceremonies with our tux, tuxedos, jackets, or tails, white tie and dresses. In general, everything you need for the ceremony and a luxury wedding. With Como' silk, we made in fact, our bow ties, and ties. From the same region also come the buttonholes of the jackets, the buttons, the side bands of the trousers. Even Venetian masks for costumes made by the best Venetian craftsmen.
Nowadays we count with a permanent replacement of no less than three hundred tux, tuxedo(s) or black tie and 150 tailcoat(s) or morning suit(s) for men from size forty to size sixty-six and with at least three-hundred-night dress for women; from size thirty-two to fifty-two. Also, eight models of tuxedo shirt from size thirty-seven to size fifty-two; Not to mention shirts with normal collar. Another peculiarity of all shirts, tuxedo and morning suit or tailcoat are the sleeves where you can find different lengths to avoid touch-ups.
And what about other services. If by not chance, there is a need to touch them up, we make them as well for the length of the sleeves of tuxedo or black tie, tailcoat or morning suit, white tie as for pants and night dress. In addition, we give advice according to the morphology of the customers for the best model and the color of the dress for women and for its accessories.
But renting does not end with renting. We will complete this by explaining what the rules of etiquette are according to a protocol for each type of ceremony:

Weddings, parties, Ceremonies for the cinema, for a Nobel Prize, for the coronation, for a funeral, a

nd quite other events.
List of avaliable languages:
The idioms of the website: